Amazing tool to magic your presentation into memorable animation show
The desktop version of Focusky introduces the most impressive and most fun way to creatively combine PowerPoint, text, photos, shapes, online YouTube video, video clips and Flash into your very zooming presentation. And to display the multimedia presentation in a more animated and attractive way with zoom and slide effect.
The desktop version provides rich editing options, meanwhile its flexible output options allows you to publish your presentation as HTML, EXE, APP, ZIP and video(MP4 and FLV) formats.
Windows Platform
Mac Platform
Supported OS
Windows 8/7/Vista/XP
All Mac OS
Software Version
Size
257 MB
324 MB
PC Requirements

CPU : 1.50GHz
RAM : 2.00GB
Memory Space : 500MB

CPU : 1.50GHz
RAM : 2.00GB
Memory Space : 500MB

Flash
Flash 14.0 + (not required for HTML5 version)
Flash 14.0 + (not required for HTML5 version)
Download
The Editing Interface of The Focusky Desktop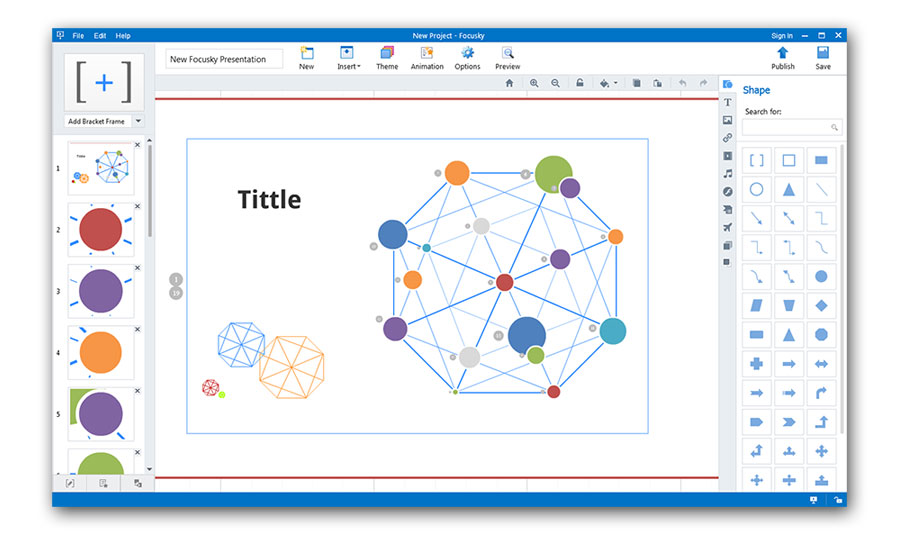 The Online Template Interface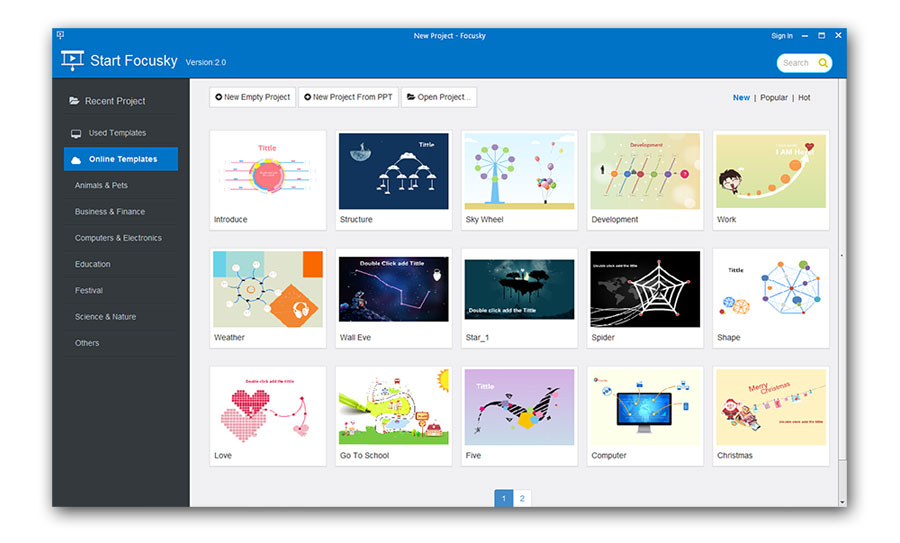 The Publish Interface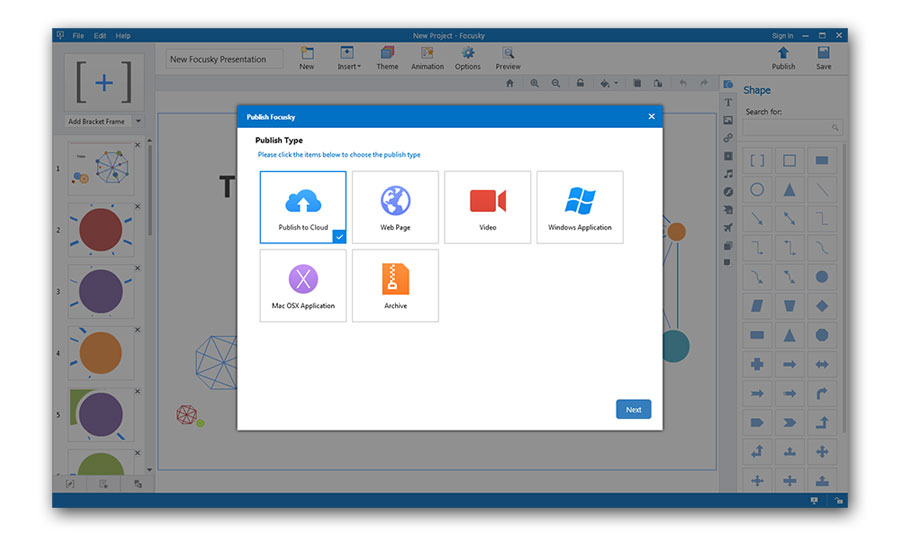 Import from PPT
To release your work of re-editing, the client software supports importing content from existing PPT file(*.ppt, *.pptx), and there are multiple pre-designed layouts available for your PPT.

PPT to Video Presentation
The software supports publishing the creative presentation as video presentation in mp4 and flv formats which can work as a effective PPT to Video converter.

Free Cloud Hosting
After finishing your presentation, your work can be upload directly to Focusky free cloud hosting for online presenting, and you can manage your works on Focusky website.

Presentation Template and Theme
Plenty of well-designed templates and theme are provided for quickly building beautiful presentation, and you can customize them as you want.

Shape Tool
Powerful shape tool with a rich graphics library allows you to draw shapes in different styles, including line, arrow, triangle, circlem rectangle, etc. Meanwhile its powerful transform tool make it easy to edit shapes.

Animation Editor
Powerful animated editor in client program for you to apply vivid animation on the digital presentation objects, making the slideshow dynamic.

Insert Image
Support most image formats including GIF, PNG, JPG, JPEG, and vector graphics in SVG format. Also a variety of image effects are available.
Text in Different Style
Focusky provides plenty of font families for your text content, also it can call the fonts of operating system.

Flash, Local Video and Audio
The client version of Focusky Presentation Maker supports various multimedia contents, including Flash in SWF format, local video(FLV, MP4) and audio(MP3).

Online Video
Add online video from video websites YouTube and Vimeo by the links of video, then you can play the online video when showing your presentation.

Multiple Output Options
In desktop version, there are multiple fleible output options for you to export your digital presentation as html, exe, zip , app or video(mp4, flv) formats.

Social Share Integrated
Social share feature is integrated with published presentaion, the people read the presentation are able to share via social network, and you can customize the share information.