Step 2: Create New Presentation Project
You can create a zooming presentation project easily. Just choose to start from PPT files, new empty project or pre-designed template.
New Empty Project:
By creating a new empty project, you will need to create the presentation from scratch. And once you select this option, you will be directed to the main design interface.
New Project from PPT:
Focusky provides a solution to video presentation from PowerPoint PPT, including PPT and PPTX documents. You are able to select all PPT slides or specific slides for the new presentation project. And you can drag and drop to re-arrange the slides before you select a layout from the multiple options. Next you can selecting a template and create the new project.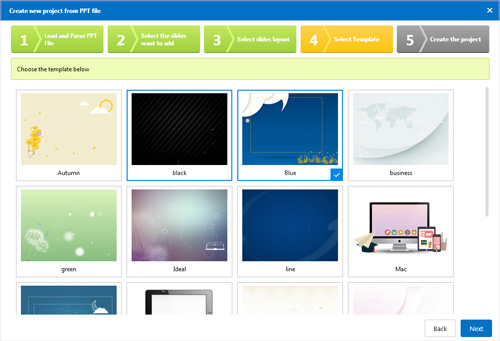 Pre-designed Template:
This free PPT to video converter offers multiple pre-set templates for you to choose. And each of the templates is actually a complete presentation with different elements including slides, objects, path, animation and so on. You just need to edit the elements and add your own content.