How to Create an Interactive Slideshow with Multi Media
Whether for educational e-learning material, business promotion or your personal use, an interactive slideshow can significantly get the audience involved, increasing engagement levels in them. A great way to create an interactive slideshow is to add multimedia elements to the presentation. Wondering  how to create an interactive slideshow with multi media? The first and hardest part is to choose the technology for your presentation. The second is about how to use this technology.
The Best Choice of Interactive Slideshow Technology
We are here to introduce you a cool presentation tool –Focuksy. To presentations, it takes an innovative approach that moves sharply away from traditional slideshow formats. It combines kinds of visuals with a spatial layout to add interaction to your slideshow. With its rich fresh features and intuitive interface, you can enjoy a streamlined design flow and create an interactive slideshow in a minute.
Start Making Interactive Slideshow with Focusky
Streamlined Design Flow to Add Multi Media
Add Videos
When it comes to giving an interactive presentation, adding videos to the slideshow is a great option. Focusky supports seamless integration of videos from various sources. Find an online video to evoke emotions in an audience; Insert the local clip file that can create a certain atmosphere. With the recorder in Focusky, you can even record the screen to make a video that will be embedded to the presentation and reinforce your story.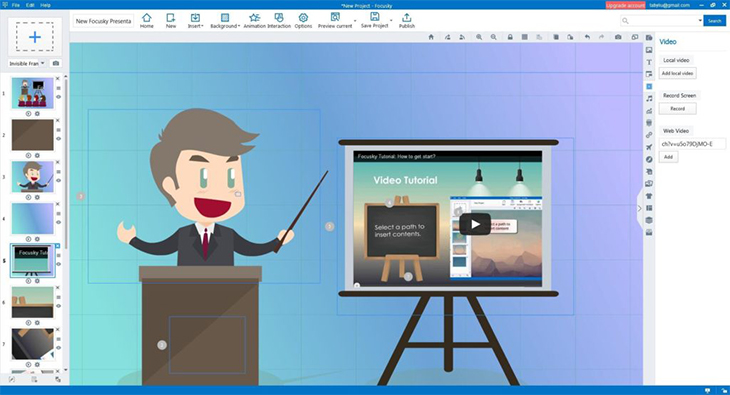 Insert Images
Images are usually used to catch audience's attention, no matter what topic the slideshow focuses on. Search the built-in image library of Focusky and find beautiful, creative, and proper images to use in your slideshow. To simplify this process, Focusky has a powerful search function that allows you to look for the relative images by different catalogues. You are also allowed to upload your own images from the computer. These images will visualize your information and leave a deep impression on the audience.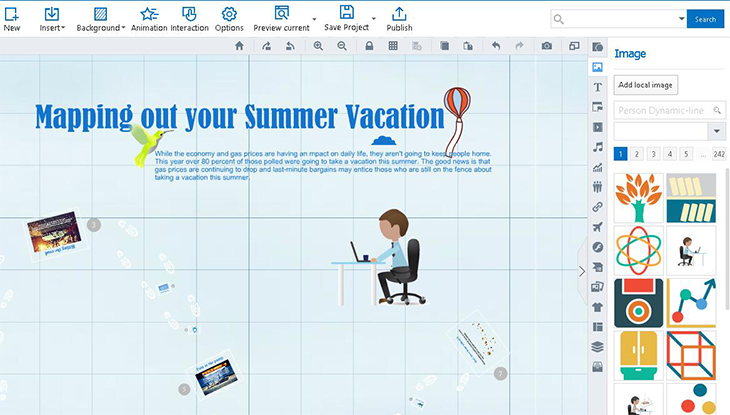 Use Links
Links encourages audience to explore more in the presentation, getting their dropping attention back. In the editor of Focusky, you have the capability of linking texts, images and videos to a web page, a local file, a local folder and a certain path in the presentation. By setting these links, you can take audience to extra information page, including some questions, and informative polls to make the audience have a feeling that they are an essential part of your presentation.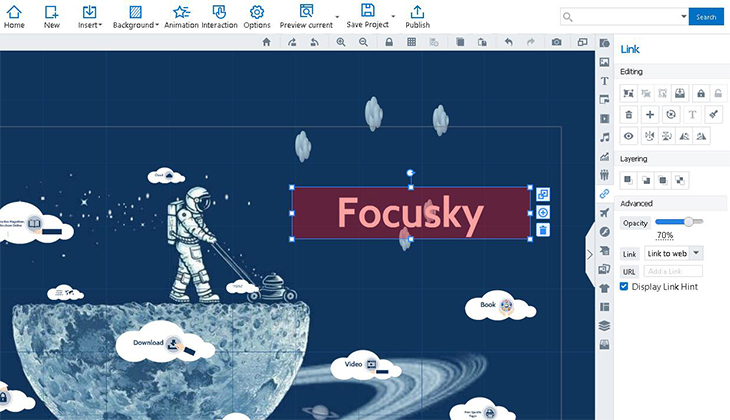 Interactive Slideshow Made by Focusky
Start Making Interactive Slideshow with Focusky