The background music can give your viewers a comfortable experience. In Focusky, you can easily set background music of presentation.
Music is for people to relax themselves. When your presentation is displaying with the soft and gentle music, the audience will feel at ease and concentrate on what you say. Good background music will make your presentation more attractive. And Focusky presentation software supports you to set background music to enhance your presentation effect.
Firstly, watch the following video to have a general understanding of this background music features.
1Options—Project setting
When you have finished all contents in your presentation, you can select the Options button to complete the display setting. Click the Project setting and you can find the setting of background setting.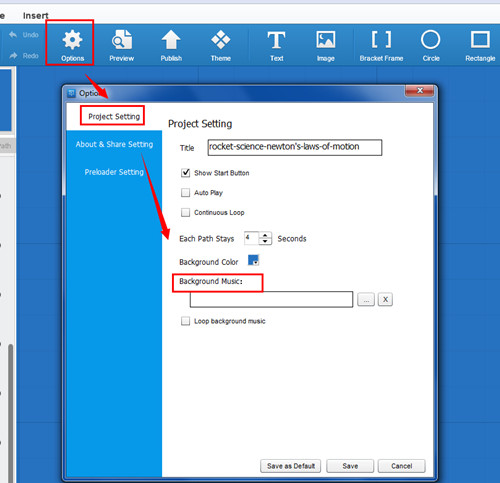 2Add your music
Click on the browse icon and choose the mp3 music which you want to set as background music. If you want it to display along with the process, you can tick on the options "Loop background music".

3Save your setting just by clicking the Save button. If you want to check whether it works on or not, You can have a preview before publishing.